Last chance to own the Betrayal Series: [Ends TODAY]
Why is the information about reversing autoimmune disease – and the many ways it shows up – still not out there?  … What if it is? This is your last chance to own Dr. Tom O'Bryan's documentary series: "Betrayal: The Autoimmune Disease Solution They're Not Telling You."   
Why are human beings and countless families and loved ones suffering with issues like Parkinson's Disease, Thyroid Disease, Rheumatoid Arthritis and an insanely long list of autoimmune diseases?  When the answers are being given out every day now.

We can turn the tide on autoimmune disease.
We can stop, and even reverse these debilitating conditions.
That ends now.
Own the series and help us change even more lives.
>>>>> Yes, I want to own the series and be part of the Mission  <<<<<
Here's to your BEST life, Paul  at  ChangeThatMind

______________________________________________________________
PS: I want you to have all of the uncut 85 plus interviews…  
and the transcripts for everything…
audio mp3s to listen to and learn from in the car, the gym, etc…
and Dr. Tom's personal application guide on what to DO next…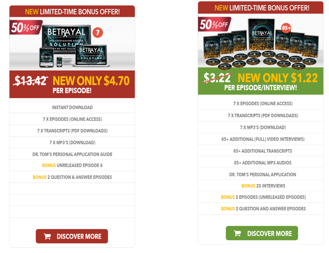 * You don't have to decide now, you can try it first with the 60-day money guarantee. By owning this resource you can share this truth with your family and friends to help save lives.